Anti-racism has a long history, with the movement starting out as an explicit political stance against racism. As anti-racist teaching evolved into what is now known as multicultural education, it became less about addressing specific instances of racism and more about expanding awareness on how systems of oppression can manifest in different forms across various cultures
The "concealed narrative" is a term used in the field of critical pedagogy and anti-racist education. It refers to an idea that the dominant culture's story, while it may be hidden, is still present in classrooms.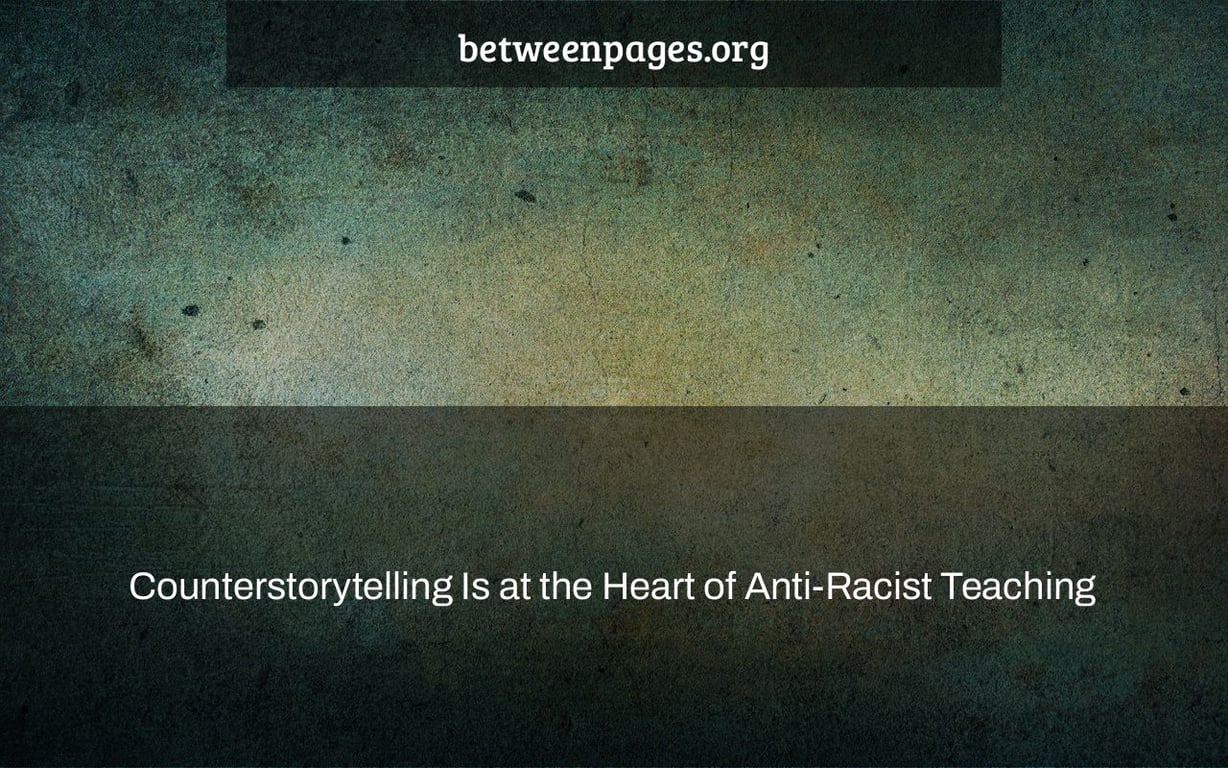 Critical race theory's premise of counterstorytelling is considerably more than that. It is central to our work as antiracist educators. Because we are the counterstory, Black and brown educators have always felt and needed to be present in classrooms. For our Black and brown kids, we symbolize optimism, development, and potential.
We are by default counterstorytellers since many of us have spent our whole lives attempting to change the narrative in our own families and communities. Our story is the resilience with which we show up and overcome personal experiences of racism in a society brainwashed by whiteness on a daily basis.
Our counterstory is our capacity to master the art of schooling and use the skills and methods we've acquired to navigate a racist educational system that was never intended to help Black and brown people succeed. We have an authentic frame of reference that enables us to assist our kids in developing their own agency in challenging racist narratives presented about them, their communities, and in the whitewashed textbooks they are required to study.
Our ability to tell stories is our superpower.
Our superpower is our ability to create tales that help our pupils form human relationships. I know this because our greatest revolutionary leaders built the groundwork for me, and many of them paid the ultimate price. Knowing this, I feel compelled to enter the classroom every day to tell the tales of these great leaders, to expose the truths they never had the chance to express because they left the world too soon.
Right-wing politicians, conservative politicians, and anti-CRT activists can, in the end, police all textbooks, intimidate us into resignation, levy penalties, and do everything they can to keep kids from learning the truth. They don't understand, however, that we, as Black and brown educators, have always operated in the spirit of our forefathers and mothers. We continue and diligently participate in counterstorytelling as a means to protect, empower, soothe, and center our Black and brown kids, even if the invisible cost is still very much there and our racial battle weariness is definitely an inevitability.
We strive hard to offer a reality to our Black and brown pupils in which our tales may assist them peel back the layers of their identities to expose the value of their presence in this world. We are the griots of today. Some of us do it with Gil Scott-unabashed Heron's rawness and unmistakable flair, while others do it with Toni Morrison's elegance and unfathomable grace.
Our goal remains the same, regardless of how we speak the word of freedom in our classrooms: to educate our kids the truth about who they are and how they are seen by others. I'd be negligent if I didn't mention how these same politicians and anti-CRT activists have long hailed Ruby Bridges and Dr. Martin Luther King Jr. as icons of a post-racial America, only to use and steal their legacies for political gain.
As irritating and infuriating as all of this is, one thing remains constant: the tales we carry in our hearts for our kids, as well as the lessons we've learned through our own slavery and tyranny in this society, serve as our underground train to liberation. No matter how hard these politicians try, we will never lose that holy knowledge, and that is where our strength resides.
The "story-based curriculum" is a method of teaching that focuses on the stories being told in a classroom. This type of curriculum is said to be more effective at combating racism than traditional methods.
Related Tags
storytelling curriculum for middle school
stock narratives
rice university storytelling project
organizing models