The Memorial for the Fallen 13 was unveiled in Norco on Saturday with a ceremony that honored each of their lives and sacrifices. The memorial, created by Kenny Haney and his team at Guntown Sculpture Garden, represents the most recent chapter of this growing community's struggle to remember those who were lost during the tragedy.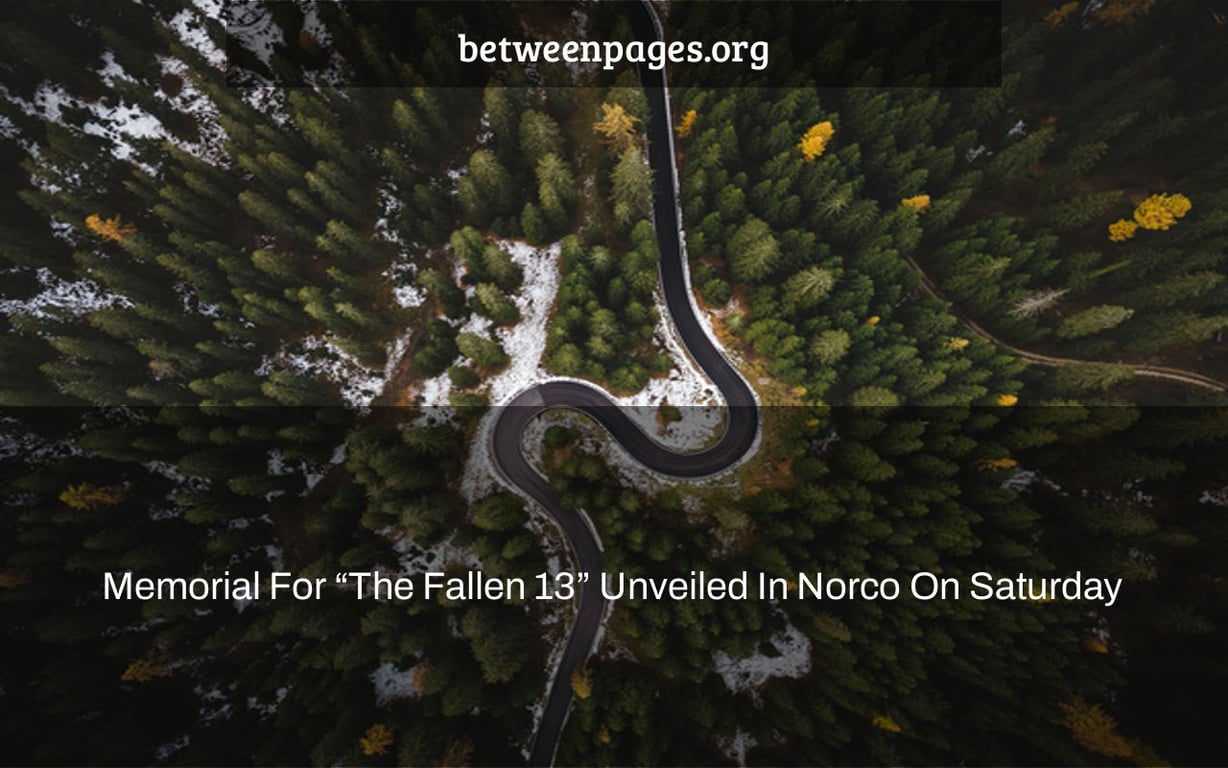 NORCO, Calif. (CBSLA) – On Saturday, the city of Norco presented a flower and stone garden on Sixth Street as a homage to "The Fallen 13," the 13 military soldiers killed in Afghanistan in 2021.
The Fallen 13 are remembered at this memorial. (Image courtesy of KCAL9 News)
READ MORE: Authorities Are Still Looking For A Suspect In A Fatal Palmdale Shooting That Occurred On Friday
The monument has photos, inscriptions, American flags, and plaques commemorating the 11 marines and two military personnel murdered in a suicide explosion on August 26, 2021, as soldiers were leaving Afghanistan.
Hundreds of residents and fellow military members – some of whom had also served in Afghanistan – came to memorialize the 13 service men who offered the ultimate sacrifice on that day while assisting with the removal of the last soldiers instructed to leave the war-torn nation.
The Thirteenth. (Image courtesy of KCAL9 News)
Corporal Hunter Lopez, 22 years old, Lance Corporal Dylan R. Merola, 20 years old, and Lance Corporal Kareem M. Nikoui, 20 years old, were all from Southern California.
READ MORE: Willowbrook Crash Leaves Two Dead and One Critically Injured
Nikoui was born at Norco, which is one of the reasons the monument was erected there. Shana Chappell, his mother, attended the unveiling and chatted with CBS reporters.
"It demonstrates that everyone here remembers our kids – they remember their efforts, and they're expressing their gratitude for our kids, for our 13 fallen." "It means a lot to me that they're expressing their support for us as parents," she added.
The erection of the monument started in September, with community members and volunteers like Anthony Simoneau and his wife Tina leading the charge. "A place where anybody can come to… simply to sit and contemplate and think about what we all have and what they provided us," they said of the monument, which is located in a heavily visited part of Norco.
That was the intention of the organizers, who placed the homage in a prominent location so that people could see it anytime they were out and about, going about their daily lives thanks to the sacrifices made by military members.
Hunter Lopez's father, Herman, talked with reporters during the event, saying, "One of our aspirations is for Hunter's name to always be out there, along with the names of all the military men who perished alongside him on that day." As a result, this is a significant step forward in that endeavour."
ADDITIONAL NEWS: Claremont was hit hard by high winds on Friday night, with over 20% of residents losing power.
The Fallen 13 are as follows:
Sergeant Johany Rosario Pichardo, of Lawrence, Massachusetts, is 25 years old.
Sergeant Nicole L. Gee, 23, of Sacramento, Calif., is a 23-year-old Sacramento police officer.
Darin T. Hoover, 31, of Salt Lake City, Utah, was killed in the line of duty.
Corporal Hunter Lopez, 22, of Indio, Calif., was killed in the line of duty.
Corporal Daegan W. Page, 23, of Omaha, Nebraska, was killed in the line of duty.
Corporal Humberto A. Sanchez, 22, of Logansport, Ind., was killed in the line of duty.
Corporal Lance David L. Espinoza, a Rio Bravo, Texas resident, is 20 years old.
Lance Corporal Jared M Schmitz, of St. Charles, Mo., is a 20-year-old soldier.
Corporal Lance Rylee J. McCollum is a 20-year-old Jackson, Wyoming resident.
Corporal Lance Dylan R. Merola, a 20-year-old Rancho Cucamonga resident, was arrested.
Kareem M. Nikoui, a 20-year-old Norco, Calif., Lance Corporal
Maxton W. Soviak, a 22-year-old Navy Corpsman from Berlin Heights, Ohio, was killed in action.
Staff Sergeant Ryan C. Knauss, 23, of Corryton, Tenn., was killed in the line of duty.