Netflix India has reduced the prices of its plans up to 60% in order to attract more viewers. Netflix is expanding into other countries, as well as increasing their original content on-demand library.
Netflix India has reduced the pricing plans for their service up to 60%. This is an attempt at attracting more viewers. The new prices are as follows: Read more in detail here: netflix plans.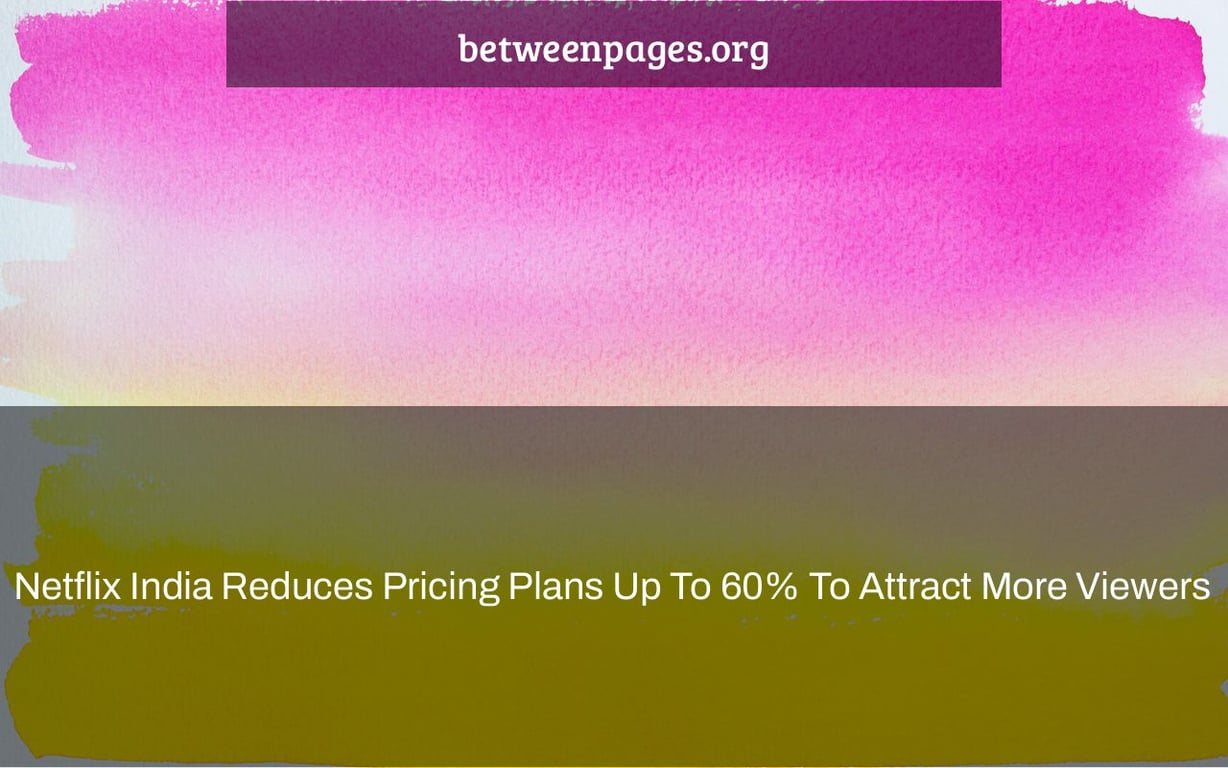 Netflix India made an unexpected statement on Tuesday morning that they are lowering their price for Indian users. Some of the designs have had their prices lowered by up to 60%. The price cut was made in order to entice more users to the Indian streaming industry.
The Indian streaming market has been very competitive in terms of cost, with Amazon Prime and Disney+ Hotstar giving Netflix India a run for its money. There are also a slew of local streaming providers that provide stiff competition.
Amazon Prime and Disney+ Hotstar have already recognized the value of the Indian market, which is why their plans are far less expensive than Netflix's. Both services offer subscriptions starting at Rs.1500 per year, with Netflix's 4K option costing Rs.7200 per year. The Rs.1500 per year Disney+ Hotstar subscription already includes 4K streaming and up to four screens.
As a result, it was only natural for Netflix to feel the pressure and act to gain a larger share of the Indian streaming audience. Other streaming services, such as Zee5, ALT Balaji, Sony Liv, Apple TV+, and others, are also available in India at a significantly lower cost. And many of those services invest a significant amount of money in creating local content that attracts a large audience.
New Netflix India Plans
As a result, Netflix has finally reduced its price in India in order to entice more customers. They now have a subscription that starts at Rs.149 per month and includes Netflix streaming on mobile devices. The package was previously offered for Rs.199, however it has now been lowered by 25%.
The greatest discount is on your basic plan, which was previously priced at Rs.499 but is now cost at Rs.199. It has been cut by 60% in order to attract more individuals and customers to the Netflix experience as a whole. It lowers the streaming quality to 480p and can only serve one screen at a time, but it enables streaming on both mobile and laptop devices. This means you can watch on smart TVs, however the streaming quality will be poor.
The goal is to use this plan as a Trojan horse, luring customers in with the promise of improved streaming quality on the basic or premium subscriptions. Customers may gradually be moved up to at least the basic plan.
The regular plan, which was previously priced at Rs.649, has been reduced to Rs.499. The premium plan, too, has been cut by Rs.150 and is now available for Rs.649. The new price plan will go into effect on December 14 and will be activated automatically for current clients.
Netflix India has already sent out a mailer to all current subscribers telling them of the new plans and informing them that the price decrease would begin with the next monthly billing cycle. As a result, if you are a current subscriber, you will begin saving money on December 14th.
This article may include affiliate links, which means that if you click on one of the links and buy anything, we may get a commission (at no additional cost to you). We only connect to goods that we believe will benefit our readers. For certain items, monetary remuneration has no bearing.
Watch This Video-
Netflix has reduced the pricing plans of its India service to attract more viewers. Reference: netflix yearly plans india 2021.
Related Tags
netflix subscription offers india
amazon india
netflix basic plan details
netflix old plans
netflix india login