The world is shifting from a classroom-centered education to an internet-driven learning environment. Schools around the country are starting to take note, but educators need guidelines and resources on how best to address these changes in their curricula with rigor and innovation.
Curriculum development is important for all students, not just those in the classroom. Here are 3 steps we should take now to develop a curriculum that will be rigorous and effective.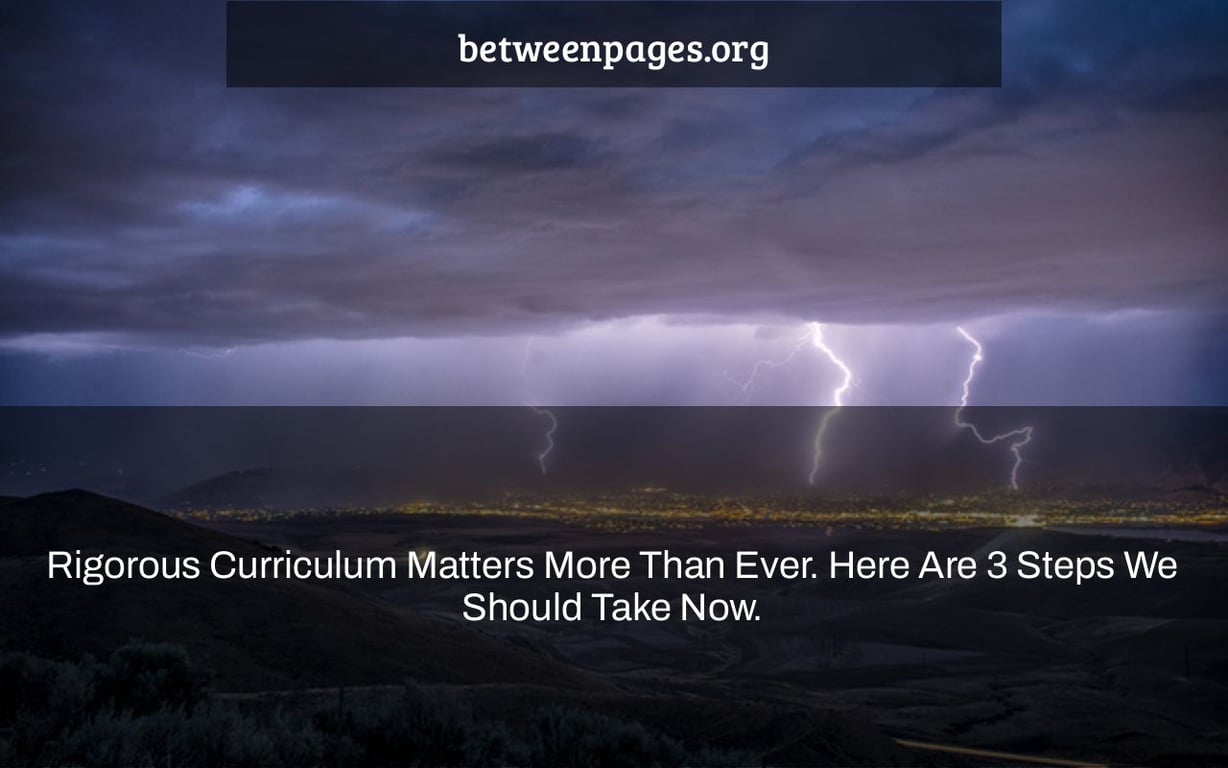 Teachers never anticipated finishing the year on Zoom when they greeted their kids on the first day of school last September. They'll have to deal with health, safety, and trauma issues as the new school year approaches. Plus, they'll have to deal with these problems on top of the pandemic's increasing inequalities and financial challenges.
It's no surprise that teachers and administrators are immobilized and perplexed. There are a plethora of problems vying for the public's attention. The needs of students who are at the bottom of Maslow's scale are given top priority. That is exactly as it should be. No one would claim that you can just ignore your requirements for safety and well-being in order to focus on your self-actualization goals.
We may still question ourselves whether we are providing higher-level learning requirements adequate attention and assistance. In the midst of the storm, we can do this. We may consider how we might improve this so that kids learn this fall. In fact, any strategy to reopen schools must start with this.
"High-Quality Curriculum Implementation: Connecting What to Teach to How to Teach It," a new study from the National Institute for Excellence in Teaching (NIET), was published in June. It shows how to build up frameworks that may help instructors lead and assist students as they progress to higher levels of thinking and learning.
I understand that any educator has a lot on their plate. Putting emphasis on curriculum implementation may seem to be one project too many. But that is the crux of the issue. Curriculum is often regarded as a "one-off" project, and as a consequence, it is separated from the practice of teaching.
When districts adopt new curricula, it is often implemented with minimal teacher training or leadership buy-in. Research continues to demonstrate that just providing better material in the classroom does not result in improved student results. What exactly does it entail? The effectiveness of new curriculum is determined by ongoing, job-embedded mentoring. Now is the moment to do this right, since districts and schools are already revamping systems and rethinking what teaching looks like.
Here are three places where we may begin right now:
First and foremost, concentrate on the leaders. Any new material or curriculum must be learned and understood in relation to other basic instructional components, and this foundation will enable school administrators to use curriculum to enhance student learning. Right now, that knowledge will assist them in coaching their instructors on how to effectively convert materials and information into a virtual world.
Make time, establish procedures, and assign formal responsibilities for continuing professional development. Rethink how professional development should be planned, structured, and guided to assist instructors gain a better understanding of material and the skills they need to teach. Teacher leaders are crucial in this situation, since they can give frequent feedback to their colleagues. Teacher leaders may start preparing now for how curriculum and material from this spring will be integrated into what teachers will cover in the next semester, as well as how they will review those plans in PLCs and coaching sessions on a regular basis.
Assess how instructors are implementing the curriculum and what they will need to do so in the future. Curriculum implementation is a continuous process, and school leaders should continue to assist teachers in integrating the "what" and "how" as they coach and support them. Leaders may plan how they will evaluate teaching and student work in the future year by doing so now.
If we want to recover momentum and promote student development, we must use this summer to reset on what we are teaching and how we are teaching it. Being deliberate now about how to combine high-quality material with effective teaching will not only help instructors start the year off well, but will also help them improve student learning throughout the year.
As we contemplate reopening, we must not get immobilized or distracted by all that is weighing on us. We must take action. Teachers owe it to students to concentrate only on how to improve their learning.
"Students wanted more rigor and more learning this past spring, and we can't let them down again this fall," Amy Gallaway, the 2020 Alaska Teacher of the Year, recently stated on a Zoom discussion regarding reopening next year. Great material combined with good instruction is where it all begins and ends, whether it's a pandemic or not.
Twitter photo by Candice McQueen.
Frequently Asked Questions
What is a rigorous curriculum?
A: A rigorous curriculum is an education program that provides students with challenging, high-level content. The curriculums are often research-based and use a test score to evaluate student progress.
Why is a rigorous curriculum important?
A: There is a rigorous curriculum because it teaches students important skills, such as reading and math. Without this intensive education, people are not able to comprehend complex topics or do well in school.
What can you do to make your curriculum more effective?
A: I am not sure what you mean by effective. If this means helpful, then the best way to make your curriculum more effective is to find a teacher who has experience in education and work with them on how they teach.
Related Tags
what makes a good teacher
teaching styles
why was school invented