Tiny Tina's story revolves around an idyllic world inhabited by a cast of colorful, cartoony characters. The player can freely roam the lands and partake in various side-quests or hunt down rare treasures and fight boss battles against powerful enemies. However, as fun as it was to explore the land of Borderlands 2 on your own back through Tiny Tina's wonderlands, you might want to take some advice from her best friend Mordecai: "It ain't no picnic." In Borderlands 2's Chaos Mode players are thrown into a nightmarish world where they must kill waves upon waves of increasingly difficult foes using whatever tools at their disposal before moving onto more standard missions that reward with better weapons.
"Tiny Tina's Wonderlands: How Chaos Mode Works" is a guide to the chaos mode in Tiny Tina's. The guide includes information on how to get started, what you can do and how chaos mode works.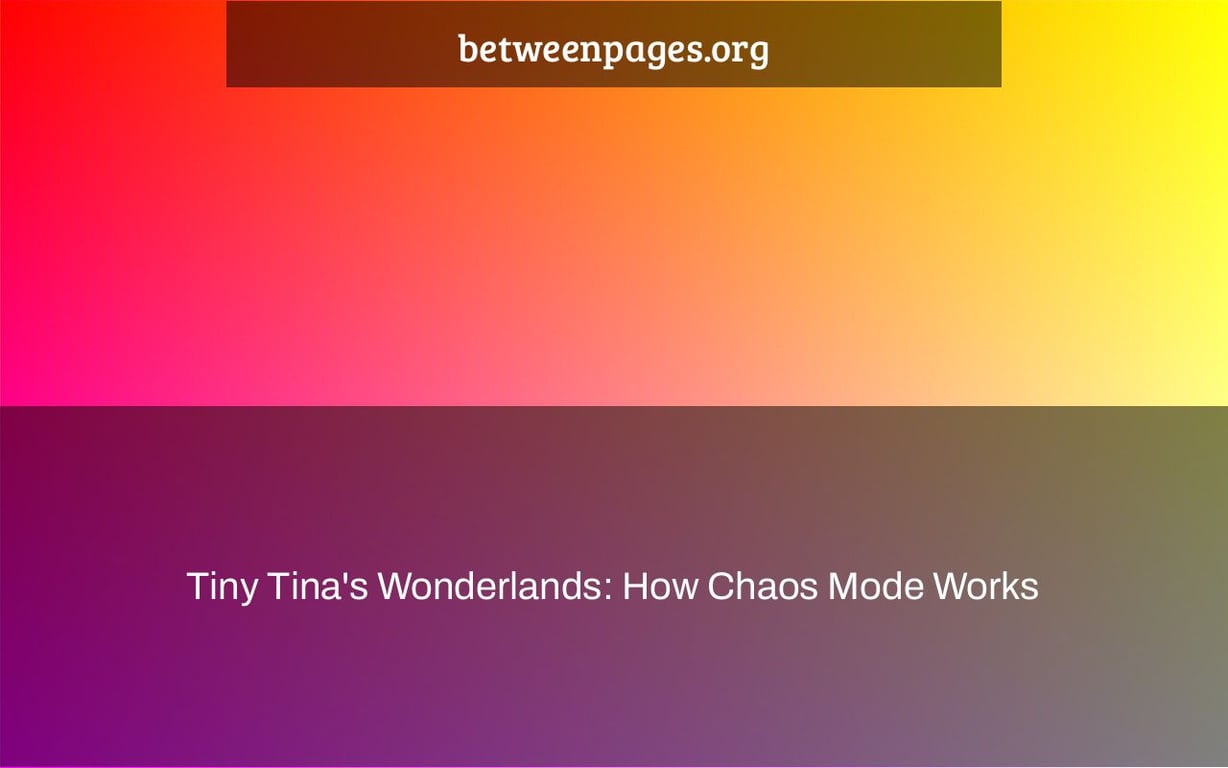 Before you start playing Tiny Tina's Wonderlands, you'll want to understand how Chaos Mode works since it's one of two major endgame modifiers. It borrows heavily on Borderlands 3's Mayhem Mode, but without any gameplay tweaks other than flat damage, health, and other stat adjustments for foes and treasure gathering.
We'll go over how Chaos Mode works, what modifications have been made, and how to make Chaos Mode function best for you in this tutorial.
Tiny Tina's Wonderlands: How Chaos Mode Works
You access the Chaos Chamber after completing the Wonderlands main campaign, where you may participate in randomized sequences of encounters ending in a boss battle against any boss in the game, regardless of whether you've fought the monster previously.
The Chaos Trial is one of the Chaos Chamber's modes, and completing it once raises your Chaos Mode level by one.
Then, on the far right of the menu, click Chaos Mode and set it to the maximum level. Return to the Chaos Mode menu and boost your rating by one after completing a Chaos Trial run. To increase it again, complete another Trial.
Each Chaos Mode level raises six passive qualities that are fundamental to Wonderlands' gameplay.
The most significant boost will be in opponent HP, which will start at +25% and climb by another 25% or more with each subsequent Chaos Mode level.
At Chaos 20, the current maximum, expect foes to have more than +500 percent HP.
With each Chaos level, the remaining values all rise by 4%. They are as follows:
Damage done by the enemy
Gained experience
Gold was obtained.
Earned Moon Orbs
Loot Luck is rewarded with a bonus.
Moon Orbs and Loot Luck are the most essential values, since you'll need one to reroll your weapon and equip Enchantments, while the other provides a flat increase to your probability of getting better loot.
One last benefit of playing Chaos Mode is the potential to get Chaotic and Volatile items. In layman's terms, a Chaotic item is around 20% more potent across the board. Any looted item with a blue rarity or above has a 4% chance of falling as Chaotic.
Volatile gear is 40% more powerful than regular gear and 20% more potent than Chaotic gear. Of course, increasing rarity comes with increased power, and a piece of treasure with the Volatile description has a less than 2% chance each drop.
In Tiny Tina's Wonderlands, the Best Ways to Play in Chaos Mode
Running Chaos Chamber runs and spending earned Crystals at the treasure bunny at the conclusion of the activity is currently the best method to harvest stuff in Chaos Mode. Every piece of equippable gear in the game has its own rabbit, enabling you to (kind of) target farm for a certain weapon and roll.
Bunnies may consume 500 crystals at once for the highest chance for Legendary drops, and they can give you any weapon in the game, even boss and quest-locked treasure.
You may always farm bosses for Liquid Cooling, or take an Extended Run and spend all your Crystals on the Pistol Bunny. You'll be rolling through every Legendary, purple, and blue pistol in the game, but if you have a lot of Loot Luck and patience, you may be able to find a decent Liquid Cooling faster than you can farm Lissia for seven hours.
Ascending a few Chaos Ranks and battling monsters you like is a terrific way to put your build to the test and discover where you need to tweak it. Fighting a Zomboss, Parasite, or Banshee will give you an excellent indication of where your damage is at, enabling you to swap out one or two pieces of gear to see what happens.
Those are the essential facts about Tiny Tina's Wonderlands: How Chaos Mode Works. It's very straightforward in its current iteration, and there aren't many places to make good use of it outside the Chaos Chamber, but that's likely to change with future updates.
Take the opportunity now to try out different class combinations and spend Moon Orbs on the Enchantments that will best suit your build. More information on these and other topics may be found in our Wonderlands guidelines area.
The "chaos chamber wonderlands" is a game mode in Tiny Tina's Wonderlands. It was added with the release of Chaos Mode. In this mode, players are tasked with completing all missions and defeating Diablo in order to win.
Frequently Asked Questions
Is Tiny Tinas wonderlands related to Borderlands?
Will Tiny Tina be in Borderlands 3?
A: So far, Tiny Tina is not scheduled to be in Borderlands 3. Its possible that she could appear as a DLC or pre-order bonus if the developers feel like it would please the fans of Borderlands 2 and 3 enough for them to buy another game again.
What Will Tiny Tinas wonderlands be on?
A: Tiny Tinas WONDERLAND is a Game Mode in Borderlands 2.
Related Tags
wonderlands chaos level not increasing
tiny tina's wonderlands chaos chamber symbols
chaos level wonderlands
wonderlands volatile gear
chaos chamber portal symbols